Beauty Industry Businesses, Hair & Beauty Salons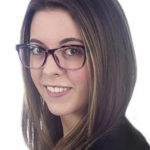 Becky is vastly experienced in the beauty industry in Ireland with over 10 years experience. Educator for 7 years in various aspects of the industry – she owns and runs a training academy, is a marketing mentor and also owns a successful nail & beauty salon in Leinster as well as a beauty products distribution company.
In her free time she enjoys taking care of her many pets, drinking half cups of tea and playing sports. She's a people's person and loves everything about the beauty industry.